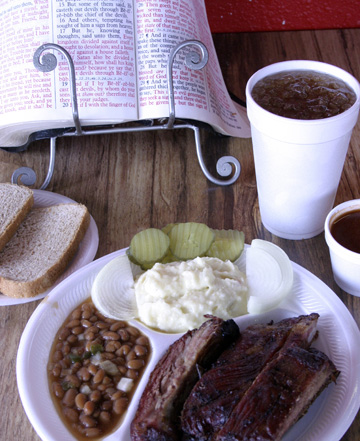 The Good News says Mama E's grub is victorious. photo by Keith Sternberg
Mama E's Bar-B-Q & Home Cooking
Bologna sandwich $3.50
Turkey leg $5.00
Sliced beef w/hot links $8.50
A D V E R T I S E M E N T
A D V E R T I S E M E N T
Baptism of Sauce
Don't let the casual digs fool you: Mama E's barbecue is a lot more accomplished, and experimental, than you'd think.
By JIMMY FOWLER
Mama E's Bar-B-Q & Home Cooking
818 E Rosedale St, FW. 817-877-3322. 11am-6:30pm Sun-Mon, 11am-8pm Tue-Thu, 11am-9pm Fri-Sat. MasterCard and Visa accepted.

There's something cool about an independent business opening in a building that used to house a chain restaurant: good ol' American entrepreneurship trumping monolithic corporate chow.
Mama E's Bar-B-Q & Home Cooking is located inside what used to be a Kentucky Fried Chicken. They've completely redone the place, inside and out. Hand-painted signs that promise "daily specials" and "great barbecue!" festoon the exterior. Inside, the dining area has tomato-red cinderblock walls, a TV perched in a high corner, and a markerboard with a "greatest hits" collection of quotes by Jesus that changes daily along with the specials. There are only five small tables — the kitchen eats up most of the space.
Mama E's specializes in takeout and catering, selling its pork and beef hot links, pork ribs, and sliced and chopped beef by the sandwich, the plate, or the pound. On a recent visit, the food was fresh, tasty, and more than satisfying.
The Texas Barbecue Bible begins with the line, "In the beginning, there was sauce." (The Barbecue Bible up in Memphis probably says, "In the beginning, there was rub" — but we're not in Memphis.)
Sauce is the alpha and the omega, the savior or destroyer of meat and poultry in most Texas barbecue joints. Mama E's concoction (a secret family recipe, of course), which is integral to every entrée, gracefully toes the line between two flavors that, in the wrong hands, can end up battling for supremacy rather than complementing each other: sweetness and spice. Mama E's lands on the tongue sweet and goes down spicy. Pepper worshippers may find her sauce a little mild, but to the average foodie, it should be just right.
The sliced beef was delicately singed at the edges, tender without being stringy, and also very juicy. A plastic fork will be all you need to carve mouthfuls of this tantalizing flesh. The "hot" links were only mildly spicy, contained both pork and beef, and arrived in thick, generous slices. At one point, my guest pierced a link with his fork. He was rewarded with a projectile spurt of hot grease on his shirt — and he didn't mind a bit.
Two of the must-tries here may not be obvious choices for barbecue fans: the turkey leg and the bologna sandwich. The leg was big enough to knock a baseball out of the park with and had a chewy skin that had been brushed all over with that sumptuous and sticky sweet-hot sauce. Take one bite of this gobbler, and you'll hit the mother lode of melt-in-your-mouth bird. It may have been the best thing we had.
And though you may think it sounds dull, don't pass on the bologna sandwich. I have a strong aversion to that lunchmeat but was delighted to discover an inch-thick, grilled slice of deli-quality bologna served between hot, soft burger buns. The concoction was way more classy than what you'd expect of a sack-lunch staple, which sort of sums up Mama E's: The food is a lot more accomplished, and even more experimental, than the ultra-casual digs might suggest.