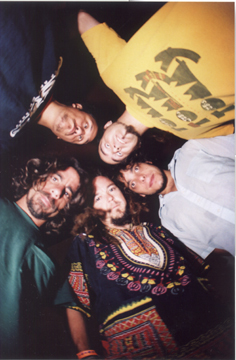 At work on a new c.d., jam-banders Spoonfed Tribe still find time to make the Fry Street Fair ó what troopers.
A D V E R T I S E M E N T
A D V E R T I S E M E N T
Fry Street Fair
By Anthony Mariani
As if the Wall of Sound Festival a couple of weeks ago didnít offer enough hip indie-rock for yíall to ignore, now comes Dentonís Fry Street Fair and its groovy yet much smaller bill of hip indie-rock acts equally not worth signing off MySpace for, evidently.
Cowtown will be well represented. Yokels slated to perform include the cut*off, maybe one or two others (who knows), and Spoonfed Tribe, the Arlington-based jam band thatís putting the finishing touches on a new record, the groupís first since 2003ís We Are Part of the Problem.
Thereís a raft of other superlative indie-rock on tap, including The Record Hop, Joint Method, Sleezus Fist & The Latter Day Taints, The Happy Bullets, Pinebox Serenade, The Fabulous Badasses, Space Cadet, Spitfire Tumbleweeds, The Mermaid Purse, The Zest of Yore, Mugzu, Fra Pandolf, Warren Jackson Hearne & His Merrie Murdre Gloomadeers, Super Love Attack, Hand of Onan, and a few others.
If youíre still deliberating whether to go to Fry Street or Main Street Arts Festival, relax: You can get jumbo turkey legs at both.
Sat noon-9pm, 1305 W Oak St, Denton. $12-15. www.frystreetfair.com.