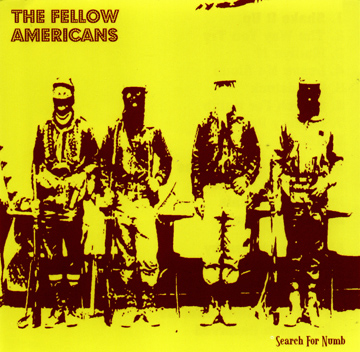 A D V E R T I S E M E N T
A D V E R T I S E M E N T
The Fellow Americans
Search for Numb
(Big BOOM Records)
By Caroline Collier
From the opening riff on Search for Numb, it's obvious that The Fellow Americans aren't interested in fancy production tricks or endless sonic nuances. The Fort Worth band simply rocks.
Having played previously in the Rio Grande Babies, guitarist Matt Hickey and bassist Hal Welch are joined here on TFA's debut by drummer Caleb Dissmore and vocalist Jeff Price, who has since left the band to concentrate on solo work. The intuitive (and probably hard-earned) familiarity between guitar and bass results in well-organized, if not a bit predictable, song structures. Guitarist Hickey doesn't deviate from his thick, growling guitar tone, driving the eight songs here intensely and easily. Dissmore works the crash cymbals a lot, emphasizing the band's punkish heart. Every song is spirited, lo-fi, and, true to punk style, short.
Gritty and hard-edged fit three-quarters of TFA's sound. The remaining portion belongs to vocalist Price, whose inherently pensive voice never quite catches up with the music's headlong tumble. Replacing a singer often proves an impossible task, but TFA has such a distinctive sound that it probably will sound like TFA no matter what. For the time being, Hickey will take over singing duties — swapping one voice for another in this case shouldn't dramatically affect the outcome.