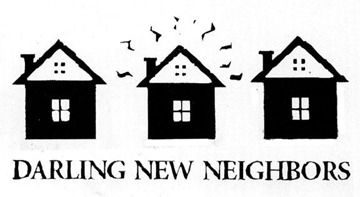 A D V E R T I S E M E N T
A D V E R T I S E M E N T
Darling New Neighbors
Every Day is Saturday Night\r\n(I Eat Records)
By Caroline Collier
Listening to music is usually a subjective experience, but certain rules and boundaries apply to performing it. Songwriting is not for the weak of heart, but as with Darling New Neighbors' singer Elizabeth Jackson, the craft can be infiltrated by the weak in voice. While the subject matter of the Austin trio's new disc, Every Day is Saturday Night, comes off as genuine, and the tunes skip around enough stylistically to make the case that DNN is dedicated to their career choice, nothing can possibly overcome the offensive disharmony of Jackson's slightly off-pitch wail.
"Overgrown," the album's opening track, is a bluegrass lamentation that pairs her instrument with a shrill violin, a combination that results in a quick dash for the earplugs. "Seven," meanwhile, takes a stab at different time signatures; drummer Reid Faist comfortably controls the Pixies-like variations, and bassist/vocalist Amy Moreland maintains a low-end dominance. Jackson's half-spoken whispers are a relief from the howling, but you gotta wonder: Why take the time to master shifty progressions when the singer would benefit from some music lessons?
A couple of moments almost redeem the record. On "The Time Has Come," a simple, punk beat and a dynamic, driving bass propel laid-back, lower-register vocals. And on "Puppies," drummer Faist sings while impressively wandering up and down a ukulele, revealing a band whose members have obviously made an earnest but calculated attempt to sound like, well, everything.
Faced with an abundance of music today, you can't blame Darling New Neighbors for trying to be different. However, it's always preferable to be different in a good way.