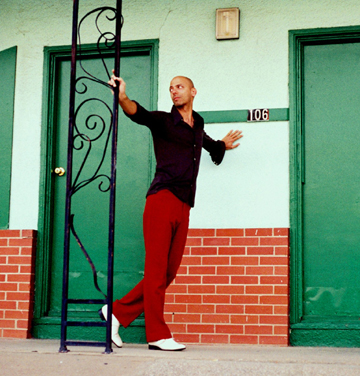 Rahim Quazi is pleased to finally be doing his own, starry-eyed, folk-inflected pop thing.
Rahim Quazi\r\nFri at Bend Studio, 5014 McKinney Av, Dallas. 214-841-9642
A D V E R T I S E M E N T
A D V E R T I S E M E N T
Not Boxed In
Shimmery-pop singer-songwriter Rahim Quazi has a new full-length and new outlook on life.
By JIMMY FOWLER
Rahim Quazi, the 40-year-old singer-songwriter who's performed in various groups in Fort Worth and Dallas for 15 years, knows about conflict and upheaval. His father, a devout Muslim from Pakistan, separated from his mother, a native Texan, and moved to Europe from their Oak Cliff home when Quazi was a child. Quazi and his father stopped speaking because of a religious disagreement 10 years ago. As an artist, Quazi was a singer and keyboardist with an area band called OH-no that got courted by entertainment lawyers and national labels — before it dissolved in the standard miasma of ego and disillusionment.
Recently, Quazi has striven to get his personal and professional bearings: He's starting over in a fresh solo career, and he's attempting a reconciliation with his father. He opts not to stress out about any of it, instead referring to himself as "a rider on the waves of life" who's determined to forsake the old "I'll only be happy if this happens ..." attitude for an unconditional acceptance of whatever comes his way.
"If I'm gonna be a starving musician, then I might as well be a starving musician playing my own songs," he said. "I have to find the joy whether I'm performing for 20 people or 200." He finds a quite different but very compelling satisfaction in his day job, counseling emotionally disturbed teen-agers at Birdville ISD.
Quazi may find the crowds swelling far beyond 200 if his debut solo album, Big Black Box, earns the listenership it deserves. He said he sometimes feels like a brand new musician devoid of a past, but the c.d. benefits enormously from a maturity and power of discernment that could only come with slogging away in the scenester trenches.
Quazi grew up with his mother and "a series of evil stepfathers" in neighborhoods around Fort Worth and Dallas. He performed in the Texas Boys Choir. He was a Beatles freak at a very early age and soon after got into ELO and Roxy Music at a time when his stateside peers were jamming to Journey and Rush. ("Basically, they all thought I was gay," Quazi said with a laugh.) In the summers, his father took him to Germany, where Quazi heard a constant background stream of what his father termed "gypsy music" — rhythmically intense, sometimes mystical folk tunes from the Indian, Turkish, and Pakistani traditions.
Back in Texas, his name and his Middle Eastern appearance only made his eclectic tastes seem all the more, well, weird. The kidnapping of Americans held in the Iranian embassy didn't trigger a stampede of schoolmates who wanted to be his friends — shockingly, the kids neither knew nor cared about the difference between Iran and Pakistan. In fact, Quazi said his life can be traced as a timeline of international incidents "from Iran to Libya to Syria to Iraq. Every few years I get attitude from a new generation of Americans who're pissed off. But I'm 100 percent American."
In 1990, Quazi and The Chemistry Set's Steve Duncan formed a band called Three Days Away that played mostly in Dallas clubs. This began a long and increasingly more frustrating series of gigs as sideman and supporting player — be it on keyboards, guitar, or harmony vocals — for Quazi. He thought all that toil in the shadows was going to pay off when he joined the alt-poppy OH-no, which got as close to the "brass ring" as he'd ever come — they signed with a huge international talent agency, got a publishing deal with Sony, and were vigorously courted by some of the major labels. Then it all just sort of drained away, and by the time the band broke up a couple of years ago, Quazi realized there wasn't much pleasure in the music-making to compensate.
"We never looked at each other while we were onstage, and we rarely looked at the audience," he recalled. "It was just slink on to the stage, play, and then leave pissed because someone played the wrong chord."
His new disc, Big Black Box, co-produced with local legend Salim Nourallah, is the exact opposite of that kind of insularity and disconnectedness. Quazi freely admits it's a concept album that chronicles his turbulent five-year first marriage and nasty divorce, but several of the songs are playful, hopeful, and self-deprecating. He said he loves the idea that someone in the middle of a torturous break-up might derive comfort and inspiration from the tunes. The best of the tracks have an undeniable radiance: Even at his most morose, Quazi's voice has the quality of a child who believes if he can just reach out far enough for happiness, it'll meet him halfway. Big Black Box is a gorgeous piece of folk-saturated pop whose complexities drift just below the professional surface: "If you listen closely to my music, those Indian scales and rhythms sometimes pop out," Quazi said. "I can't help it. They're in my blood and in my fingertips."
The last couple of years have felt like a personal reinvigoration for Quazi. Besides writing and recording the new album, he and his second wife have a 2-year-old son, Lennon, and Quazi's 18-year-old daughter recently started attending The University of North Texas. The sense of transition that pervades his family life includes that tentative reconnection with his dad, who's planning to fly to America before year's end to see his son for the first time in a decade. Quazi also just recently turned 40, and although he has some trepidation about re-entering a youth-obsessed business at this stage in his life, he can't help but see everything through rose-colored glasses.
"As an artist there's some insecurity [about the age issue] behind my bravado," he said. "But I've got as much energy onstage today as I did when I was 19. And right now I'm doing what I've always wanted to do. I just have to trust that the songs will connect with people."