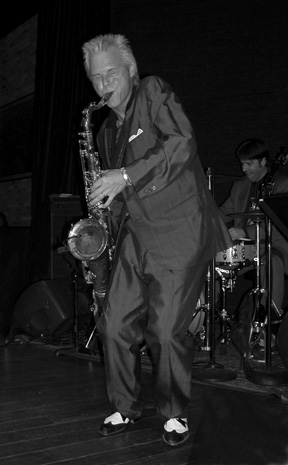 Sax master Johnny Reno holds court regularly at the Scat.
Johnny Reno and the Lounge Kings
Every Thu at Scat Lounge, 111 W 4th St, FW. $7. 817-870-9100.

A D V E R T I S E M E N T
A D V E R T I S E M E N T
Hollywood Shuffle
Local sax-man Johnny Reno has spent a lifetime in music, from all angles.
By CAROLINE COLLIER
Looking back on a career that has spanned about 30 years, Johnny Reno marvels at his enviable good fortune and wily approach to the music business. A successful saxophonist, singer, and songwriter, Reno also is an actor and has scored or lent his music to a number of films – his life in celluloid is writ large in Detention (1998, by Arlingtonian filmmaker Andy Anderson), Ninth Life (1989), Waiting for Guffman (1996), Showtime's Chris Isaak Show, and several films for Austin-based, internationally recognized moviemaker Robert Rodriguez: Roadracers, Sin City, and the Spy Kids franchise. A former member of Triple Threat, Stevie Ray Vaughan's lauded rhythm section, and a former mainstay at legendary Fort Worth bluesman Robert Ealey's New Bluebird Nite Club in Como, Reno attributes his success mainly to two things: playing and progressing.
For the past few months, Reno has been holding down a weekly gig at the relatively new Scat Jazz Lounge in Sundance Square. He also has been playing a ton of private parties. As much as he depends on gigging to satisfy his soul — and earn a living — he wants to achieve a goal he's recently set: to get his band tighter. With help from a local rhythm section, Reno plans to re-record an album he made years ago that's sitting in the vault of a major label, Capitol Records. "We keep refining and defining," he said, and while there's always a degree of experimentation involved with anything he does, Reno believes the key is "being true to your music interests at heart."
Reno's interests are pretty clear: jump blues.
In the 1970s, when disco was king, is when Reno started hanging out at the Bluebird, where he befriended a group of musicians well versed in music history, including the brothers Stevie Ray and Jimmy Vaughan, Sumter Bruton, and Doyle Bramhall. The young musos joined forces to find any alternative to the era's plastic soundtrack. Reno gravitated toward an old Chicago blues sound, which he feels held "more resonance beyond the flavor of the moment."
Regulars, including bandleader Ealey, let Reno bring his horn and join jams. To Reno's ears, the sounds simmering in the Bluebird were "the real-deal stuff. … I learned the language, the repertoire. That is where I learned to play."
Reno soon moved from his hometown of Fort Worth to Austin, where he joined Vaughan's Triple Threat. "I learned a lot about performing with a real commitment and passion for performance art," he said. At the time, Vaughan was still sort of unknown. For Reno, though, the experience was great fun, even if it seemed to him to be an "avocation, not a vocation."
In 1980, Reno amicably parted ways with Vaughan and the Live Music Capital of the World ®. He returned home to the Fort and hooked back up with the Bluebird cats. In Reno's absence, a band named the Juke Jumpers had been gaining momentum. Reno, while also working for a lawn service, joined the Jukes as their saxophonist. In three years, the band stamped their rockabilly blues-jazz on three independent records — not a common accomplishment back then. Reno credits his stint with the Jukes with helping him focus on developing his understanding of music theory. "It was like studying for a master's in music history," he said. "But you play every night."
Unsatisfied with his role as a sideman, Reno re-invented himself as a singer-songwriter by founding the Sax Maniacs in 1983. He relished his role as "artistic director." Two saxophonists fronted the band, which pumped out "New English beats mixed with an R&B, Texas sound." For three years, the Sax Maniacs enjoyed constant touring and considerable success on a national scale. In addition to two full-length albums released by Rounder Records, Reno and the Maniacs also got some air time on MTV, which led to some bit acting parts for Reno.
Music back then was dominated by garish hair-metal and saccharine pop. When listeners began demanding more depth from their music, Reno dropped the Sax Maniacs and started the roots-rocking Johnny Reno Band, a pretty successful venture — until grunge laid down the hammer. The effect on all genres of popular music, in Reno's opinion, was a "paradigm shift," he said. "They hardened up the pop music scene. … I wasn't that kind of artist. I'm not dark. I'm more fun."
Reno was growing tired of the pressure of fronting and managing a band when he got a call from an old friend, Chris Isaak, looking for some sax help. For about five years, Reno played with the swinging blues guitarist, making appearances on Saturday Night Live and the Tonight Show With Jay Leno.
During downtimes with Isaak, Reno began studying new music technology. Coincidentally, filmmaker Rodriguez was looking for someone to score some of his future projects. Along with Fort Worth guitarist Paul Boll, Reno and Rodriguez worked together on Roadracers, Rodriguez' follow-up to his smash debut, El Mariachi.
Reno left Isaak's band not only to do more scoring work but also to record a new disc of "swing, jazz-lounge-y stuff," with a new outfit of his making, the Lounge Kings. Reno took his Sinatra-influenced vocal tunes all the way to Studio B of Capitol in downtown Los Angeles. Before the Lounge Kings' debut record could be released, however, the music mega-business began to crumble in the face of free digital file sharing, self-produced CDs, and the aftermath of 9-11, leaving the group, along with thousands of others, unsigned and sans record.
Having been through a lifetime of transitions, Reno adapted quickly. He learned all about the licensing business, selling songs like "Martinis at Eight" to commercials and television broadcasts. "There is a demand for music like that," he explained, "and the older stuff is expensive."
From his Fort Worth studio, Reno has concentrated, over the past 10 years, on scoring major Hollywood pictures and writing new songs, with gigs outside the studio helping keep the bills paid. He's still playing, still evolving, still keeping the seat hot for his next new thing — which in this case may be his own old record.

Editor's note: The writer is a part-time employee of Scat Jazz Lounge.