Stage: Wednesday, January 21, 2009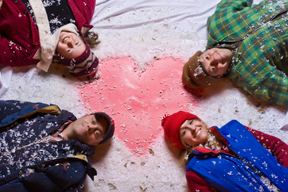 Becca Shivers, top left, B.J. Cleveland, top right, Marisa Diotalevi, and Ted Wold star in Almost, Maine.
Almost, Maine
Thu, Fri, and Sat thru Feb 8 at Theatre Arlington, 305 W Main St, Arlington. $15-17. 817-275-7661.
A D V E R T I S E M E N T
A D V E R T I S E M E N T
Almost, Main Street
The venerable Theatre Arlington presents a new gem — tell a friend.
By JIMMY FOWLER
After last Sunday's matinee performance of Almost, Maine, actor and Theatre Arlington artistic director B.J. Cleveland made a startling announcement to the audience: "We've been told that the Fort Worth Star-Telegram has discontinued arts coverage of theaters in the Mid-Cities. That includes Theatre Arlington. So if you enjoyed this show, tell your friends. We rely on you for publicity."
It's criminal that the restriction of local arts coverage by Star-T/Dallas Morning News — the two papers are sharing content — should result in the axing of Theatre Arlington. For the past 36 years they've offered a reliable brand of audience-friendly theater; the most professionally executed of their work has been during Actors' Equity member Cleveland's 15-year tenure as artistic director. Their best stagings might be called "gateway theater," in the sense that they've made converts of people who never thought they could sit still for two hours and watch actors chatter onstage. Almost, Maine is a classic example of Theatre Arlington's m.o., a tasty shot of sharp wit and melancholy atmosphere that seems custom-designed to hook newbie audiences. Directed by Michael Serrecchia with a skilled ear for the pregnant pause, the show is a collection of eight vignettes about love, hope, change, and loss, all set on the same lonely Friday night during a small town in Maine's mid-winter.
Playwright John Cariani grew up in far northern Maine, about 500 miles north of Boston. He was quoted as saying that where he came from, "The skies are big, the winters are long, and there's lots of space. They call Montana 'Big Sky Country.' Well, they've never seen northern Maine." Thanks to Jack Hardaway's children's book illustration of a set — twinkling lights against deep darkness, white silhouettes of giant trees, and not much else — the four actors who play several characters apiece feel diminished, chastened, almost defeated by the huge wintry sky around them. This, in turn, gives the show's small touches of magic realism more significance and plausibility. When you're surrounded by this much cold nothingness, the emotional nuances of little human events acquire a mystical quality.
All but one of the random sketches in Almost, Maine are duets played in different combinations by the effortlessly enchanting quartet of Cleveland, Marisa Diotalevi, Becca Shivers, and Ted Wold. Following the cue of Latin American writers like Gabriel Marquez, certain metaphors are made fantastically literal and upend the natural laws. Hence, in "Her Heart," young widow Glory (Diotalevi) carries her broken heart around as clanking pieces in a bag. She pitches a tent in the yard of handyman Easton (Wold) so she can see the Northern Lights, which she has been told are torches carried by the dead as they retreat to the afterlife. "Getting It Back" finds disgruntled Gayle (Diotalevi) ready to split with her hapless boyfriend Lendall (Cleveland). She insists on returning all the love that he's given to her, dragging in very large, cumbersome packages from stage right. He returns the love she's given him in a container roughly the size of a sandwich bag. The especially poignant "Story of Hope" finds middle-aged Hope (Shivers) returning to the childhood home of a high school sweetheart whose question "Will you marry me?" she never answered. A stranger (Cleveland) now resides there and gives her an unexpected lesson in the ravages of long-simmering regret.
If all this sounds like Love American-Style in the Age of Cholera — that is, cheap sentiment tarted up with literary pretensions — it probably would be with a less agile, empathetic cast. Director Serrechia urges the actors to work against potential gooiness by helping them develop a crisp, bantering quality with the dialogue, which includes the artful use of pauses that accentuate a great one-liner. When Shivers inquires why ex-flame Wold is drinking alone, he explains that the rest of his family has gone south for the winter — beat, beat, beat — "to Vermont." In the end, none of the emotionally fluid actors in Theatre Arlington's Almost, Maine forgets the essential mundanity of these small-town lives. The real-world details let the surreal elements arrive like soothing showers, not grandiose thunderheads.
As for the post-show announcement that Theatre Arlington will no longer be reviewed by North Texas' two major dailies, I can only say: The decline in the Fort Worth-Dallas cultural scene has begun in a big, nasty way.