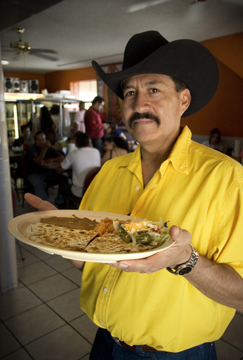 Your El Mil experience is in owner Santiago Rios' hands. Naomi Vaughan
El Mil Tacos
3910 Hemphill, FW. 817-926-3201. Mon-Thu 9am-10pm, Fri-Sat 9am-4am. Drive-thru Mon-Sat 9am-4am. MasterCard, Visa accepted.
A D V E R T I S E M E N T
A D V E R T I S E M E N T
Centro de Flavor
Dozens of combos and exotic flavors make for a mucho tasty experience at El Mil.

By LAURIE BARKER JAMES
Craving a really good, non-Norte-americano taco? Head past the "Centro De-Anti Stress" on Seminary Drive to Hemphill Street, where the signs on the structures are mostly en Español. In a brightly colored two-story building, you'll find El Mil Tacos Restaurante. Open at almost all hours of the day or night (except Sundays), El Mil features a taste-bud-boggling menu of tacos, burritos, tortas (Mexican or Cuban sandwiches), and mariscos, including the breaded variety. Fajitas are not on the menu, but there is a hamburguesa. But don't expect a mere spicy gringo burger: El Mil serves their beef patty with ham, cheese, mayo, jalapeño peppers, and avocado. Yum.
The menu is in Spanish and English. While it doesn't include "cerveza," it does offer the surprisingly tasty horchata: a creamy (non-dairy) rice drink flavored with almond and cinnamon. There also are Jarritos sodas. Both the fruity and the unusual tamarind kinds are slightly less sweet and less bubbly than any traditional "American" soda.
The menu also offers so many combinations that your head may spin. Newbies, you won't be disappointed if you stick to the basics: tacos. Order them singly or pick three and add rice and beans for about a dollar more.
In addition to traditional faves such as chicken and grilled or shredded beef, El Mil also serves up three kinds of pork — pastor (seasoned), deshebrada (a kind of pulled pork), and the funky chicharrón (fried pork skin) — and also tripas, lengua, and buche. If you don't know what they are, chances are you're not going to want to order them.
The lengua (cow tongue) tasted neither like chicken nor beef but like a little of both. The pastor was full of flavorful, succulent meat. Whichever item you try, be sure to squeeze on some of the zesty, delicious green chile salsa that El Mil provides in handy bottles.
The gorditas are moist, mildly spicy pieces of shredded chicken piled in a scrumptious, soft, thick flour shell. The plate comes with rice and beans, along with a zippy side "salad" of lettuce, chopped onion, and cilantro.
The rice and beans were a mixed bag. The beans were out-of-this-world, probably because there is some meat product involved. The rice, though, was average. But you get so much food on your plate that you might not notice.
El Mil also serves desayuno (breakfast) all day long. The walk-up window is open until 4 a.m. every day except Sunday, when the restaurant is closed, and it's not much of a stretch to picture the place being crowded around last call. The breakfasts include huevos rancheros, machacado (shredded beef, onions, and eggs), and the scrumptious eggs with chorizo. The smoky, slightly spicy sausage with scrambled eggs also featured a generous portion of beans, plus tortillas.
The only dessert on the menu — tres leches — comes from a panadería up the street and is superb. Though the cake cost about as much as an entrée, it was worth it: incredibly rich, moist, and containing explosive strawberries.
At El Mil, there may be a thousand ways to make a taco. And even if you're not an adventurous foodie, you'll enjoy most of them.