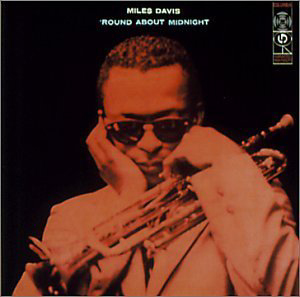 A D V E R T I S E M E N T
A D V E R T I S E M E N T
Miles Davis
'Round about Midnight\r\n(Columbia Legacy / Sony BMG)
By Tom Geddie
Prolific, enigmatic Miles Davis recorded all of the songs on 'Round about Midnight in his mid-20s, shortly after he kicked heroin, from the mid-1950s to mid-1960s, after jazz discarded the big band sound, re-embraced the blues, and started creating one-name legends, such as Miles, Coltrane, Mingus, Monk, and Rollins.
'Round about Midnight is not a classic album like Davis' Kind of Blue or even Sketches of Spain, both from 1959, nor is it as innovative as 1969's Bitches Brew. But this reissue, with additional material, has its cool moments.
Disc one — the original album with four bonus tracks from the same sessions — is competent. It couldn't be otherwise with Davis on trumpet, John Coltrane on tenor sax, Red Garland on piano, Paul Chambers on bass, and Philly Joe Jones on drums.
That same combo plays on all seven of disc two's live recordings from a 1956 concert in Pasadena, Calif.; here is where you'll find the most interesting performances; none of the tracks has been commercially available before. Davis and his combo soar on "Walkin'," "It Never Entered My Mind," and "Woody 'n' You."
Disc two also includes a slow, contemplative version of Thelonious Monk's "'Round Midnight," a jam session from the 1955 Newport Jazz Fest that includes Monk on keyboards with Davis on trumpet, Zoot Sims on tenor sax, Gerry Mulligan on baritone, Percy Heath on bass, and Connie Kay on drums. The disc-one version of the same song is slow and mournful for the first three minutes before it begins to move; the version you'll like best probably depends on your mood.
If disc one seems merely competent, perhaps it's because anybody who listens to classic jazz has heard so much from Davis — he released 297 albums from 1945 to 1991 — that it's too easy to take him for granted now. —