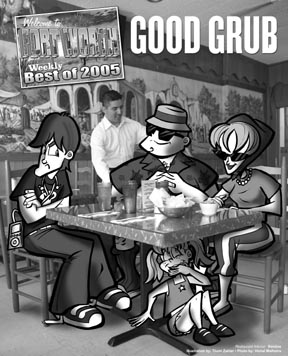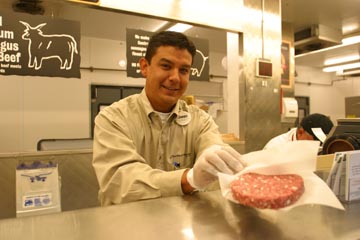 Is that a beef-and-blue-cheese burger patty that Central Market's Jonas Hernandez is showing off?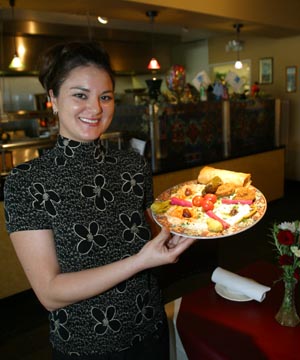 Ta-da! Carley Kaba presents a vegetarian plate at Café Medi.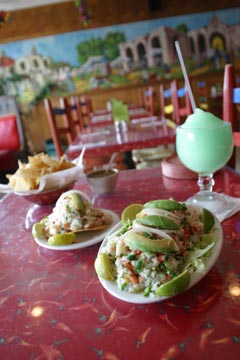 The ceviche salad at Benito's is a new twist on this lime-cooked seafood dish.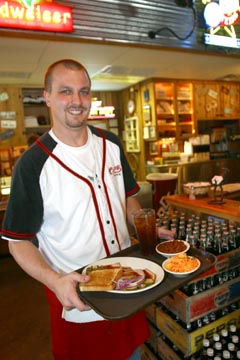 Matt McClure serves up a heapin' helpin' at Cousin's.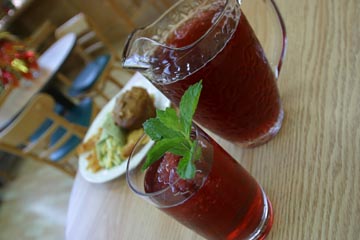 Plum and peppermint tea at the Sunflower Shoppe could make you swear off Lipton's and Luzianne.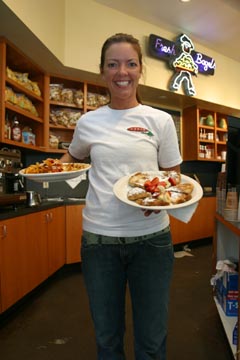 A no-frills burger or a Philly cheesesteak – served up by friendly Laurie Stewar at Yogi's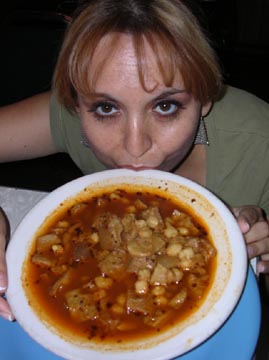 Norma Rodriguez isn't really slurping down the menudo at Los Alamos, but you can.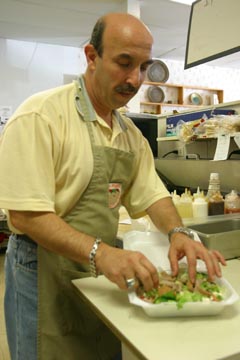 Pak-A-Pocket's Imad Eljizi knows how to stuff a pita.
A D V E R T I S E M E N T
A D V E R T I S E M E N T
Good Grub
Bakery
Readers' Choice: Swiss Pastry Shop, 3936 W Vickery St, FW
Staff Choice: Esperanza's, 2122 N Main St, FW
Esperanza's gets dominated by its next-door family member, Joe T. Garcia's, but this Mexican café and bakery is the real thing. It has great breakfasts and soups, but the bakery counter in the front is something else. From trés leches cakes to empanadas to huge sweet breads, the food is wonderful and cheap. The bolillos and tortillas are among the best in town. And if you're looking for a quick meal, they sell tortas — sandwiches — out of the bakery as well.
Breakfast
Readers' Choice: Ol' South Pancake House, 1509 S University Dr, FW
Staff Choice: Old Neighborhood Grill, 1633 Park Place Av, FW
This homestyle dig, affectionately nicknamed "O.N.G.," attracts crowds of regulars for breakfast, especially on Saturdays. Beer-batter biscuits, fluffy pancakes, good (and greasy) omelets, and breakfast tacos are some of the favorites. The atmosphere is as familiar and comfortable as your grandmother's house, with kids' drawings and a chalkboard menu. Skip the O.N.G. if you're looking for fruit and granola; otherwise, this place has options to satisfy even the largest morning appetites.
Coffee
Readers' choice: Four-Star Coffee Bar, 3324 W 7th St, FW
Staff choice: Jazz Café, 2504 Montgomery St, FW
When it comes to a cup of joe, a real blend shouldn't leave an aftertaste reeking of cinnamon spice, citrus, or any of those other frou-frou "flavors." A true coffee drinker knows the earthier, more robust aromas go down the java pipe the smoothest. And while Montgomery's Jazz Café may not top Cowtown's list of gourmet beanery departments, it stays true to working-class flavor. Owner Nick Kithas makes his brew strong, hot, and swiftly — but not all by his lonesome. Kudos to his barista daughter Maria, for keeping the porcelain mugs topped off while the old man does his thing.
Brunch
Readers' Choice: Blue Mesa Grill, 1600 S University Dr, FW
Staff Choice: Lucile's Stateside Bistro, 4700 Camp Bowie Blvd, FW
Be forewarned: If you hit Lucile's late on a weekend morning with the crossword puzzle and the newspaper, there's enough good stuff on the menu that you might just end up making a day of it. Worse things have happened.
They've got great egg dishes with everything from artichokes to chiles to wood-roasted chicken to rainbow trout (that last one served alongside, not as part of the omelet), plus cinnamon rolls, beignets, breakfast pizzas, waffles — and that's before you even get to the lunchier part of brunch and the fried green tomatoes and the crabcakes and shrimp ... . Whoa.
Lunch Bargain
Readers' Choice: Smoke Pit, 2401 E Belknap St, FW
Staff choice: Central Market
4651 W Fwy, FW
We know it's odd to see the words "Central Market" juxtaposed with "bargain." But we maintain that time is as important as money and that tips must also be reckoned with. You can zip through CM's salad bar in a flash and fill your take-out plate for under $5. It's not all bunny food, either; they keep bacon, cheese, tuna, nuts, and seeds out to bolster your protein intake. And if you're not in the mood for salad, step up to the sandwich bar and order a panino. (Yes, the menu reads "panini," but that's plural.) You'll get a delicious grilled sammy with meat, cheese, and veggies, also for under $5. Skip the fancy drinks and sip some cool water that you brought from home while savoring just how clever you are.
Buffet
Readers' Choice: Blue Mesa Grill
Staff choice: Merryland, 6920 Ridgmar Meadow Rd, FW
The old refrain about buffets — "I like them because I can get a little bit of a lot of different things" — has pretty much been shot down by scientific studies that show that most people wind up getting a whole lot of every choice. Imagining that they're eating like dainty little birds, they more closely resemble hungry pterodactyls. But if you're gonna cram bulimic-style, the Asian buffet with the curious name of Merryland is the place to go. The Chinese standards are here — General Tso, Kung Pao, lo mein, various seafood and vegetables-only entrées — and so eagerly consumed by Merryland's crowded lunch clientele that the place can't help but cook everything up fresh throughout the day. Their Mongolian grill with choose-it-yourself meat and vegetable bowls is also killer.
Kids' Dining Venue
Readers' Choice: The Purple Cow, 4601 W Fwy, FW
Staff Choice: Pancho's Mexican Buffet, various locations
The criteria are simple for kid-friendly eating: Cheap prices, a little excitement going on, and lots of desserts. Pancho's isn't that great as far as the food goes, but kids tend to like it — all the enchiladas and tacos they can eat, plus unlimited ice cream and sopapillas with honey for dessert. And the kids can raise that flag to keep busy.
Home Cooking
Readers' Choice: Dixie House Café, 5115 NE 28th St, Haltom City, and 6200 E Lancaster, FW
Staff choice: West Side Café, 7950 Camp Bowie W, FW
We hadn't been to the down-homey West Side Café in a while, but it was no surprise to find it just as we left it: an unpretentious diner with hey-darlin' waitresses dealing out meat-and-two classic Texas plates. Chicken-fried steak is one of the best in town; pork chops, chicken and dumplings, and fried catfish have their devotees too. Traditional sides are just like your mama made. With three large dining areas and a counter, plus the incredibly efficient staff, the only time you might wait to be seated is for weekend breakfast — but the three-egg Western omelet is worth it.
Deli
Readers' Choice: Carshon's Delicatessen, 3133 Cleburne Rd, FW
Staff Choice: Yogi's Deli & Grill, multiple locations, FW
Cowtown's gold standard, of course, is Carshon's Delicatessen, but you can't eat at the same place every time you want a reuben. Yogi's is a good venue change. You can get your standards, like a reuben or a Philly cheesesteak, but also whet an appetite for Greek omelets (served all day), a southern-flavored chicken wrap, an array of salads, and Yogi's no-frills burger. Most meals are in the $5 to $7 range.
Greasy Spoon
Readers' Choice: Fred's Café, 915 Currie St, FW
Staff choice: Day Break Café, 2720 White Settlement Rd, FW
We've tried them all and keep coming back to Day Break. Where else can you go at 4 a.m. for incipient-hangover-friendly food and/or sustenance for the coming workday at such low, low prices? All-day (until 4 p.m.) breakfasts include three-egg omelets, two-fisted burritos, and excellent machacado (shredded beef scrambled with eggs and jalapeños). Ready for real food now? Try one of the hearty Tex-Mex plates or a wonderfully greasy burger.
Indian/Pakistani
Readers' Choice: Maharaja Indian Restaurant, 6308 Hulen Bend Blvd, FW
Staff choice: Kababish, 3508 Harwood Rd, Ste 202, Bedford
This Pakistani restaurant is a dream for adventurers yet not scary for newbies. The friendly staff are eager to help you find the spice level that's right for you — or just try a bite of everything on the lunch buffet and discover for yourself. The menu gently explains the exotic dishes; many of them are similar to Indian classics but with spicy/herby twists. Still confused? Can't go wrong with the sizzling chicken and beef on the mixed grill.
French
Readers' Choice: Saint-Emilion, 3617 W 7th St, FW
Chinese
Readers' Choice: P.F. Chang's China Bistro, 420 Throckmorton St, FW
Staff choice: King Chinese B.B.Q., 907 E Pioneer Pkwy, Arlington
If you're faint-hearted, sit with your back to the case of roasted chickens, ducks, pigs, squid, and more, all hanging from their necks (well, except the squid). That way, you'll have a better shot at guilt-free enjoyment of the best Chinese BBQ in the county. Too late, you looked? Go for the faceless but still delectable garlic-sautéed broccoli.
Greek/Mediterranean
Readers' Choice: Ionian Grill, 3522 Bluebonnet Cir, FW
Staff Choice: Byblos Lebanese Restaurant, 1406 N Main St, FW
Byblos' Mediterranean standards — falafel, tahini, tabouli, hummus — are top-notch, and you can stuff yourself as fat as the Easter Pig by taking advantage of the $8.95 buffet. The place is a good choice for mixed-menu couples: The vegetarian can order moussaka, an eggplant dish, and for the snail-snarfing carnivore, bizzak bit-tarator. Not that it'll satiate your appetite, but Byblos also has a first rate web site (www.byblostx.com/b-home.html) where you can scope out both its belly dancers and its hookah lounge
Tex-Mex (Under $10 entrées)
Readers' Choice: Mexican Inn, various locations
Staff choice: Tres Jose's Mexican Kitchen, 4005 White Settlement Rd, FW
Especially considering its affordable menu (on which many but not all entrées are under $10), Tres Jose's deserves a nod for caring about how the food is presented. The vegetables in the eatery's fajitas and Mexican kabobs are top-notch — brightly colored, snappy but not crunchy — and meat lovers will be in awe at how much beef, chicken, and pork flesh can be stacked onto a single, warm plate.
Tex-Mex (Over $10 entrées)
Readers' choice: Mi Cocina, 509 Main St and 4601 W Fwy, Ste 100, both FW
Salsa (Green)
Readers' choice: Caro's, 3505 Bluebonnet Cir, FW
Staff choice: Las Lomas, 8214 Bedford-Euless Rd, N Richland Hills
With the rows of Meso-American masks peering out from metal shelves, stormy impressionist paintings on the walls, and dripping blue light fixtures, the atmosphere at Las Lomas might best be described as "Aztec chic." But your attention will fast be yanked to the menu that includes stellar items like ceviche and avocado in a margarita glass, chicken hominy soup, and pork in chipotle sauce with toasted pumpkin seeds. For unrepentant beef hounds, the tacos de costilla, featuring thick plugs of seared but tender rib-eye steak, might be just what the doctor didn't order. The verde salsa concoction inhabits a middle ground between salsa and a finely chopped pico de gallo, with onions taking a distant third to jalapeños and the tomato-like fruit known as tomatillo. The smell is as strong as the taste is rich and mouth-watering. Las Lomas should serve this mean green voluntarily (you have to request it) as a counterpoint to the restaurant's more standard salsa.
Salsa (Red)
Readers' choice: Joe T. Garcia's, 2201 N Commerce St, FW
Staff choice: Mercado Juarez, 1651 E Northside Dr, FW
We like our Tex-Mex the same way we like our romantic partners — unfussy, with large portions and time-honored techniques. And so in choosing the salsa roja at Mercado Juarez, we celebrate not its exoticness but its brazen traditionalism. It's a clinging-to-the-edge-of-the-chip ambrosia of tomatoes, onions, jalapeños, cilantro, and lime juice. Unlike at other eateries, the dip is served physically hot rather than fridge-cool or room temperature.
Italian
Readers' Choice: Nizza Pizza, 1430 S Cooper St, Arlington
Staff choice: La Bistro,
722 Grapevine Hwy, Hurst
It's been around for 20 years and just keeps getting better. La Bistro is an elegant surprise inside a modest Hurst strip mall, with opera on the stereo, a courteous and competent wait staff, heavy linens, and fresh flowers on the table. The same attention to delicious detail shows in the Italian/Continental cuisine, both the standards and the creative house specialties. Fancy-schmancy? Not a bit. Don't worry if your dining attire runs to shorts and flip-flops; La Bistro treats everybody like a VIP. And that's real class.
Thai
Readers' Choice: Yum Yum, 4954 Overton Ridge Blvd, FW
Staff choice: Sweet Basil,
977 Melbourne Rd, Hurst
Wasn't long ago that we were celebrating the boom of Thai restaurants in Tarrant County; now we're mourning the bust of some old favorites. Thank goodness Sweet Basil is still with us. This was our Best Thai pick last year, and for the same reasons: bite-size fried dumplings with ginger sauce, crispy salt-n-pepper calamari, seafood-stuffed pok tak soup, light and oh-so-flavorful glass noodle salad ... . And we haven't even gotten to the entrées yet, of which there are too many stand-outs to mention. Try any of them amid the cozy stylish room and cheerful service, and you're likely to become one of Sweet Basil's many loyal regulars.
Vietnamese
Readers' Choice: Tuhai Restaurant, 3909 E Belknap, Haltom City
Staff choice: Phuong, 4045 E Belknap St No. 5, Haltom City
Thankfully, there's no shortage of Vietnamese restaurants in Tarrant County; for that matter, there's no shortage in this very shopping center, Vietnam Plaza. Phuong is a little different. Oh, it has all the standbys — rich pho (beef noodle soup), spring rolls, rice and vermicelli plates — but it also has the best pork-blood soup in town. Other Vietnamese specialties may be more appealing to the less adventurous, like the 16 variations on grilled goat meat. Appetizers of roast pork, grilled beef, or chicken-liver sausage on French bread are nearly meal-size — if your server tells you you're ordering too much (and she will), listen.
Middle Eastern
Readers' choice: Byblos
Staff choice: Celaborelle,
2257 Hemphill St, FW
Foodies aren't crazy about buffets, mainly because buffet chefs typically eschew the subtleties of preparation and seasoning in deference to feeding a lot of hungry people fast. But the more than 20 items available at Celaborelle, a Lebanese restaurant owned by the same family that operates Hedary's, are fresh concoctions. The proprietors alternate recipes daily as well as changing the spices within those recipes as the inspiration arises. (The chefs can also whip up vegetarian versions of favorite meat dishes.) If delicacies such as ablama, frarej, raita, and boreki sound like Greek to you, then take a foreign tour down Celaborelle's buffet line.
Vegetarian
Readers' choice: Spiral Diner, 1314 W Magnolia Av, FW
Staff choice: Café Medi, 420 Grapevine Hwy, Ste 101A, Hurst
The Spiral Diner wins the meatless nod year after year, and for good reason – it's heads (of lettuce) above its competitors. So this year, to spread the bounty about, the search was widened to best vegetarian dish even if offered on a menu for meat-eaters. Café Medi scrumptiously filled the vegetarian bill with a plate with hummus, falafel, dolmas, baba ghannouj, and spanakopita, accompanied by salad and sautéed peppers and veggies.
BBQ
Readers' Choice: Railhead Bar-B-Q, 2900 Montgomery St, FW
Staff Choice: Cousin's, multiple locations
This is a smokehouse that even a vegetarian could like. You could load up on so many veggies — pintos, green beans, potato salad, cole slaw, black-eyed peas, fried okra, corn, broccoli rice casserole, fries, and baked potatoes — that you wouldn't have room on your tray for meat. (Well, OK, we didn't check for the vegetarian purity of these dishes.) You shouldn't go all-veggie at Cousin's anyway. If it mooed, oinked, gobbled, or clucked, these folks have smoked it in their pits. A favorite: smoked turkey breast, ranch beans, and carrot-raisin salad.
Hamburger
Readers' Choice: Kincaid's, 4901 Camp Bowie Blvd, FW
Staff choice: Johnny B's, 2704 E Southlake Blvd, Southlake
Good things can indeed come in small packages: The quarter-pounders at Johnny B's are grilled to order, then dusted with seasoned salt, placed on a butter-toasted sweet sourdough bun, and topped with a tangy Thousand Island-ish "secret sauce." Make it a double, add a side of hand-cut fries and a strawberry shake with real strawberries, and you're on your way to '50s-diner heaven.
Non-Traditional Hamburger
Readers' choice: Tommy's Hamburgers, 2701 Green Oaks Rd, 7018 Navajo Tr, and 5228 Camp Bowie Blvd, all FW
Staff choice: Central Market
They're sold raw at the deli counter, so you'll have to grill them yourself. That's a small price to pay, though, for exotic flavors such as lamb and feta cheese, pork and parmesan, and (our favorite) beef and blue cheese. Add that to the store's complement of buffalo, ostrich, jalapeño, and "cowboy" burgers, and you've got the most comprehensive selection of irregular patties around.
Steak (Under $12.95)
Readers' Choice: Texas Roadhouse,
5250 Endicott Av, FW
Staff Choice: H3 Ranch Grill, 105 E Exchange Av, FW
Steak (Over $30)
Readers' Choice: Del Frisco's Double Eagle Steak House, 812 Main St, FW
Steak (Best in Show)
Staff choice: Fred's Café
We created the over-and-under steak categories last year to acknowledge that our readers want to know where to find both the finest no-special-occasion steak and the best no-holds-barred beef experience.
This year we realized we didn't really need the split — although we did find a nice little Mexicali steak on H3's lunch menu that satisfied our requirements for juicy and tasteful and, at $8.95 (including two enchiladas!), our need to keep it under $13.
But on the other end of the scale, we discovered that we no longer need to ring up $30 — or even $20 —on the register to get the best steak in town. The secret's out: Steaks Every Night at Fred's. In this dive bar, a hangout for some of the most interesting people in Fort Worth (read that any way you like), "Outlaw Chef" Terry Chandler follows his whims and market availability to create culinary masterpieces of meat. One night it might be a huge mesquite-grilled ribeye with a fiery chipotle meuniere; the next, crisp-edged griddle-cooked sirloin with a Shiner Bock glaze; or maybe a New York strip with a green chile au jus. Prices are low, and the funky atmosphere (read that any way you like) is free.
Chicken-Fried Steak
Readers' Choice: Reata,
310 Houston St, FW
Staff choice: Jay Jay's,
518 Fielder Rd, Arlington
The changing daily specials written on the white board and the traditional items on the menu are as Southern-fried as the cozy memorabilia on the walls. The entrées and sides are prepared with such loving care, however, that they render the hard-sell nostalgia on the walls moot. Jay Jay's Hummer-wide chicken-fried steak is a Texas miracle of cut-with-a-fork meat and crumbly-crunchy breading. Best of all, the lava-licious white cream gravy doesn't separate the steak from its breaded exterior like a cheap jacket.
Tamales
Readers' Choice: Hot Damn, Tamales!, 713 W Magnolia Av, FW
Staff choice: La Michoacana, 2755 Ellis Av, FW
This popular grocery store and meat market has a small, basically Spanish-language-only taqueria inside. The combination was designed as a one-stop shop for newly arrived Mexican immigrants. But the taqueria isn't where you get the scrumptious steamed beef and pork tamales. Those are available in the grocery store proper, and each batch prepared fresh by the proprietors disappears before another can be completed. It's best to call ahead and confirm if the bad boys are available.
Tapas
Staff choice: Hui Chuan, 6100 Camp Bowie Blvd, FW
Admittedly, the tapas craze, which has really only grazed Fort Worth years after peaking nationally, is something to be suspicious of. You can just hear local restaurateurs conspiring: "Let's charge twice the price for half the size of an appetizer plate along with wine by the glass and call it hip!" But Hui Chuan, whose dining area is itself tapas-sized, has taken the Spanish concept of small plates to spicy, hearty, and proudly Asian heights. The crispy potato balls go particularly well with sake.
Taqueria
Readers' Choice: Meli's Taqueria, 4304 W Vickery Blvd, FW
Staff choice: Nuevo Leon,
1544 Ellis Av, FW
Your surroundings: a tiny, gaily painted, big-windowed cinder-block building off North Main. Your charming host: Señor Gonzales. Your entertainment: telenovelas, via Telemundo. Your food: the best of Monterrey, in your hand (though some take two hands). Corn or flour soft tacos, gorditas, burritos, and tortas are stuffed with your choice of a dozen meat fillings, including beef or chicken fajita, juicy carne guisada, spicy barbacoa, and delightfully crisp, nongreasy carnitas. Try them all — they're cheap enough. Lunch and dinner plates are also a steal; breakfast is huevos served a dozen ways, all fabulous.
Mariscos
Staff Choice: Ceviche salad, Benito's,
1450 W Magnolia Av, FW
Served in a tortilla shell filled with lettuce, avocado, cheese, and beans, then topped with a generous portion of ceviche, this sounded like an odd combo, but the ingredients played nice with one another.
Soul Food
Readers' Choice: John Carter's Place, 5309 E Lancaster Av, FW
Staff choice: Mama Lou's Country Kitchen,
5700 Bonnell Av, FW
Mama Lou, a.k.a. Louise King, passed in August, but niece and nephew-in-law Sabrina and Malcolm Houston are keeping the spirit of fine Como cooking alive in this tiny (three-table) café. The menu changes daily, but it's always huge portions of something fried, something smothered, and perfect-every-time meatloaf, plus hearty beans, greens, okra, and more. For dessert: a slab of chocolate cake that's bigger than your stomach, but you'll get it in anyway.
Sushi
Readers' Choice: Tokyo Café, 5121 Pershing Av, FW
Staff choice: Kobeya Japanese Steak & Sushi, 1230 Main St, Southlake
We can't help but be a little creeped out by the combination strip mall and Main Street, U.S.A., location of Kobeya. But we can easily extend our compliments to the splendid dishes that compensate in quality and flavor for what they may lack in innovation. The restaurant's standards are top-notch — crab sashimi, spicy salmon and tuna rolls, the glorious fatty toro (tuna) sashimi, even a firm, proud California roll that made us remember why we fell in love with sushi in the first place. Those $70 Kobe beef steaks may be the marquee item, but by offering fantastic sushi, Kobeya underscores, by contrast, just how much crappy sushi is out there.
Pizza
Readers' Choice: Nizza Pizza
Staff choice: (tie) Italian Express, 5612 McCart Av, FW; and That Chicago Place, 2712A Brown Trail, Bedford
We had to split this category, as each winner is perfect in its own way. The pizza pros at Italian Express learned their trade in the Big Apple, and it shows in every heavenly New York-style thin-crusted, cheesy, oregano-spiked, grease-drippy slice. That Chicago Place blew in from the Windy City to bring us a monster-thick pie crammed with meat, veggies, cheese, and a great chunky sauce. They're both our kind of pizza towns.
Seafood
Readers' choice: Ocean Rock, 3468 Bluebonnet Cir, FW
Staff choice: Texas trout, multiple watery locations
The filleted rainbow sizzles on your grill, slathered with butter, drizzled with a squeeze of lemon, tender white meat flaking from the skin. You can eat previously frozen trout at scores of restaurants around town. You can spend a week's salary in gas and drive to New Mexico and try your luck there. Or you can wait until the Texas Parks and Wildlife Department stocks the Trinity River with farm-raised trout. Anyone who thinks that a trout from the Trinity isn't tasty probably has never caught one late in the afternoon and put it on the grill a few hours later. Check the parks department web site mid-November for stocking dates. (Last year, the state stocked Trinity Park and River Park, on Bryant Irvin Road between I-30 and SH 183, just north of the Lockheed Martin Recreation Area.) And the best thing is the price: These trout are free for anyone with a Texas fishing license.
Fried Chicken
Readers' Choice: Babe's Chicken Dinner House,
104 N Oak St, Roanoke
Sandwich
Readers' choice: Great Outdoors, 3204 Camp Bowie Blvd, FW
Staff choice: Pak-A-Pocket, 5512-D Bellaire Drive S, FW
How many restaurants can quickly fill you up with a healthy lunch and boast that everything on the menu is $4.65 or less? This is a no-frills, hole-in-wall sandwich, salad, and baked potato joint that offers dozens of varieties of stuffed pitas, many of them Greek-themed. The baba ghannouj — grilled eggplant with lemon, sesame oil, and garlic — was good. And the staples of falafel, gyro, kafta, and kibbee were appealing as well. Pak-A-Pocket is popular with the high school kids but also draw nurses and seniors. Even when it's crowded, you can be in and out in 15 minutes.
Wings
Readers' Choice: Wingstop,
various locations
Bread
Readers' Choice: Central Market
Staff Choice: Taste of Health, 111 S Old Betsy Road, Keene
Horace Moore makes his organic dough and bakes his breads from scratch inside a vegetarian grocery store on the main drag of this small town a few miles south of Fort Worth. For less than $3 a loaf, take your pick: honey wheat, seven grain, spelt, or oatmeal. He's working on a sprouted bread from an Old Testament recipe that he hopes to have on the shelves soon. You won't find any baloney here to slap between slices, but the ABC grocery has an impressive selection of dried fruits and nuts and vegetarian staples.
Menudo
Staff choice: Los Alamos Café, 1446 N Main St, FW
The 2000 Louis Zapata Menudo Cookoff trophy with "Winner" emblazoned on a gold stewpot is among several awards displayed in Los Alamos for this humble dish. The Northside restaurant, family-owned for a half-century, uses fresh chile pods and honeycomb tripe (more expensive, firmer texture, less slimy). Better yet, this traditional dish is served every day, not just on weekends for people with hangovers. It's affordable at $5.75 a bowl, the flavors are heavenly, and you might even be served by one of the city's best and loveliest waitresses, Norma Rodriguez.
Bagels
Readers' choice: Boopa's Bagel Deli, 6513 N Beach St, FW
Staff choice: Einstein Bros. Bagels, multiple locations
Sure, we're as anti-chain as the rest of y'all, but when it comes to fresh bagels in a seemingly never-ending array of flavors, no one tops Einstein. Faves extend from the sun-dried tomato shmear on an Asiago cheese bagel to the old standby, lox and cream cheese with capers.
Desserts
Readers' Choice: La Madeleine, various locations
Staff Choice: Swiss Pastry Shop
If you're looking to blow your diet, there's no place like this small-scale operation featuring a cornucopia of baked goods: cakes, pies, sweet rolls, scones, cookies, and petits fours, not to mention the place's one venture into confectionery – chocolate chip cookie dough elegantly dipped in chocolate. You can wash it all down with gourmet coffee, a nice touch for this unassuming place.
Ice Cream
Readers' Choice: Marble Slab Creamery, various locations
Staff Choice: The Bull Ring,
112 E Exchange Av, FW
Want some ice cream, a little history, and maybe even a cold beer? The Bull Ring in the Stockyards is the place. The ice cream is made locally, by Henry's Homemade Ice Cream from Plano. Good variety of flavors, from Texas pecan to kahlua to rum raisin. The walls are full of great art, and this saloon looks a lot like an old soda fountain. Being like an old soda fountain, The Bull Ring has great milkshakes and smoothies. And being a part of the Stockyards, the owners did not neglect one important item: There is a tub full of iced beer right by the cash register.
Wine List
Readers' choice: (tie) Pop's Safari Cigar & Fine Wine, 2929 Morton St; and Sapristi!, 2418 Forest Park Blvd, both FW
Staff choice: Gunsmoke Grill and Saloon, 3105 Cockrell Av, FW
Del Frisco's may brag on its massive wine list (a tome about the size of Moby- Dick and War and Peace combined), but contemporary oenophiles know that size doesn't matter. With a small but excellent selection of wines that, according to the menu, represent the "six national flags over Texas," the up-and-coming TCU-area steak house would as quickly recommend a wallet-friendly $24 blush from Arkansas (Wiederkehr) as a $608 French gem (La Mondette Cabernet).
Non-alcoholic drink
Readers' Choice: (tie) drinks from Ben & Jerry's, 6115 Camp Bowie Blvd; and Panther City Coffee, 2918 W Berry St, both FW
Staff Choice: Plum and peppermint tea, Sunflower Shoppe, 5818 Curzon Av, FW
Brewed fresh at the juice and sandwich bar inside this well-established Westside specialty grocery and health food shop, a cold glass of this tea would lower the temperature of hell itself.
Soda Shop
Readers' Choice: The Purple Cow
Staff Choice: Rydell's Americana Diner, 1121 W Pipeline Rd, Hurst
Nothing groundbreaking about this 1950s-themed place near North East Mall, but an excellent choice if the sameness of the local ice cream parlors has left you Braumed out. Great shakes, malts, and floats served up by friendly staffers, and the place gives you the requisite hit of nostalgia without making you feel like you walked into a theme park. Bonus points for the tv screen playing classic movies (Mary Poppins was on when we were there).
Meat/Seafood Market
Readers' Choice:Central Market
Place to Buy Gourmet Food
Reader's Choice: Central Market
Staff Choice: Roy Pope Grocery & Market, 2300 Merrick St, FW
Think of it as the place that inspired Central Market. At this Westside institution, the prices for meat and some other items can be just as awe-inspiring as those at the big yuppie grocery haven on Hulen Street, but here you can get in and out in the time it takes you to get from produce to bulk products at CM — and you can troll the aisles in any old pattern you want, without having to fight a pre-ordained traffic flow. Excellent meats and produce, a good wine selection, all kinds of specialty products — if you're planning a special dinner, this is The Source.
Place to Buy Fresh Produce
Readers' Choice: Central Market
Staff choice: Heflin Produce Market, 2116 E Hwy 144, Granbury
Aren't you getting a little tired of all the stylish foodies fondling the baby squash at Central Market? And where else can you buy fresh produce and authentic BBQ? Heflin's has long offered an array of fresh fruits and vegetables and only recently started peddling smoked chicken, sausage, and ribs. It's favored by the growing number of commuters who live southwest of, but work in the Metroplex. And if you're making a day trip to this year's best destination — the Bluff Dale Winery — Heflin's is on your way.
Place to Buy Ethnic Food
Readers' choice: Fiesta Mart, various locations
Staff choice: Dana Bazzar, 751 W Lamar Blvd, Arlington
If you just need some masala for your saag paneer and a sappy Bollywood flick, go to any Indian grocery store. But if you want to snack and "chat" while you shop, try the Dana Bazzar, where, in addition to basmati rice and refrigerated mango juice, you'll find the Chat Corner. The "spice girls" who work behind the counter (on Fridays, Saturdays, and Sundays) mix chat — salty, crunchy stuff with yogurt, chutney, and onions. Some say you should visit the corner looking not only for spice but for love. Rumor has it that happy marriages have been made there.
Place to Dine al Fresco
Readers' Choice: Reata
Staff Choice: La Madeleine,
301 Main St, FW
Whether you want to nurse a cup of coffee in pleasant surroundings as you contemplate the day ahead, grab a relatively quick lunch, or linger over dinner and a glass of wine, the shady outdoor seating area at the Sundance Square's La Mad is hard to beat. With its view of Main Street, it's also a great place to engage in the all but bygone pastime of people- watching.
Place to Dine Alone
Readers' Choice: Souper Salads, various locations
Staff choice: Jazzy Wings, 3201 Vaughn Blvd, FW
If the question "Do people think I'm a lonely, pathetic misanthrope?" mercilessly dogs your attempts at a solo restaurant meal, then you're probably too paranoid to enjoy dining alone in public. However, those of us who've embraced our lonely, pathetic misanthropy want a nice balance of 1) a meal that legitimately commands our attention; and 2) a good waitstaff with whom we can casually interact. The Cajun-influenced finger food at the tiny Jazzy Wings — especially the spicy Ellington XXX Hots — will have you blotting out everything in the universe except your own sticky digits and the pursuit of that last shred of chicken meat on the wing. The proprietors are usually ultra-hospitable and just chatty enough without interrupting the nosh. A caveat: One timeless prop for dining alone — the newspaper or magazine — will quickly get covered with almost as much sauce as the wings.
Late-Night Dining
Readers' Choice: Ol' South Pancake House
Staff Choice: Sammy's Rest-aurant, 300 W Central Av, FW
Late-night eating can be a beating in Cowtown — too often, the choices seem to be 7-Eleven hot dogs on those rollers or some breakfast place. But Sammy's Restaurant on the North Side is once again open until 4 a.m. on the weekends. Sammy's food is solid — a good mix of Mexican, steaks, breakfast plates, and even frog legs, with chips and salsa on every table. But the best part is 77-year-old owner Sammy Pantoja and his family serving the late-night crowd. Pantoja greets everyone and makes them feel welcome. At three in the morning, that's a nice touch.
View
Readers' Choice: Reata
Staff Choice: Café Modern, Modern Art Museum of Fort Worth, 3200 Darnell St, FW
We've said it before, but it's worth repeating: There is no lovelier view in Fort Worth than Tadao Endo's reflecting pool at the Modern, with the Y beams that support the building seeming to rise straight out of the clear water, and the berms and serene landscaping shutting out most evidence of the city outside. The table settings and other details inside are just as austerely beautiful — as is the food. It's not a cheap lunch, but there are reasonable options, all creative and including touches from cuisines around the world.
Romantic Atmosphere
Readers' Choice: (tie) Café Aspen, 6103 Camp Bowie Blvd. and Sardine's Ristorante, 509 N University Dr, both FW
Staff choice: Sardine's
Them Italians know romance. It might be the sultry jazz from Fort Worth legend Jhon Kahsen. Or it could be the soft glow of candlelight. Or possibly the tight fit of the booths, where diners are packed in a metaphorical way. In any case, sensuous Sardine's is the place to share lasagne and a nice bottle of Chianti with your amore.
Salad
Staff choice: 62 Main Rest-aurant, 62 Main St, Colleyville
Mozzarella, tomato, basil vinaigrette. Sound simple? Not at 62 Main. The mozzarella is so creamy fresh it's still sweating. The tomatoes are whatever Chef David McMillan thought tasted best that morning — zesty green zebras from Oklahoma via the Colleyville Farmer's Market or thumbnail-size Sweet 100s from his own backyard. And it's not one but two basil vinaigrettes: sweet genovese and tangy dark opal, flirting together on the plate. Add sea salt and freshly ground pepper for a not-so-simply perfect salad.
Fries
Staff choice: Mofongo, 2113 Harwood Rd, Bedford
They're like french fries but with flavor. Yuca, a South American tuber, absorbs less oil than potatoes and so stays crisp longer, maintaining all its savory heartiness. When it's sliced, deep-fried, and served Puerto Rican style with a side of garlic aioli for dipping, we wonder why anyone would bother with the boring cardboard stuff.
Fast Food
Staff choice: Pak-A-Pocket
Quick, cheap, tasty, reliable, and packaged to eat in the car or during a short lunch break at your office desk — the Middle Eastern "sandwich stand" known as Pak-A-Pocket combines all those elements with Persian, Syrian, and Arab mainstays like baba ghannouj, kibbee, tabouli, and hummus that are spooned generously into chewy flat breads. Traditional deli meats and cheeses are also on hand for stuffing. Bags of chips add that comforting grade-school sack-lunch touch.
Best-Kept Secret
Staff choice: The Gardens Rest-aurant, Fort Worth Botanic Garden, 3220 Botanic Garden Blvd, FW
This lovely little place has been in operation for years, but people who've lived in Fort Worth all their lives don't know about it. Just driving far enough into the gardens to reach the restaurant gives a lift to your day. Once there, you'll find a bistro-type menu with a small but interesting selection of salads, sandwiches, pastas, entrées, and desserts. The apricot chicken salad is a standout, the salmon beurre blanc is excellent, and the desserts are huge. Those sly gardener types have been hiding this one under their bushel basket for too long.
Best in a Field of One
Staff choice: Servant's Kitchen, 1310 Magnolia Av, FW
Of all the restaurants we've been to that have Bible verses scribbled like graffiti on every available surface — chairs, tables, walls — Servant's Kitchen is by far the most other-beliefs tolerant. At least we haven't burst into flames on any visit so far. Servant's Kitchen also has a well-conceived and -executed lunch menu of soups, salads, sandwiches, and combos, some Cajun-influenced, some Asian-influenced, and all praiseworthy.
Host
Staff choice: Jennifer Pittman, Del Frisco's
For more than seven years, Georgia native Jennifer Pittman has been handling the masses at Del Frisco's as if nothing were easier. Martini bar walk-ins are treated with the same respect as the Bass family hangers-on who made reservations two months prior. Though her blonde hair and raspy voice scream "party girl," Ms. Pittman is all business.
Wait Staffer
Readers' Choice: (tie) Becca at The Keg, 5760 SW Loop 820; and Shelly at the Smoke Pit, 2401 E Belknap St, both FW
Staff choice: James Norris, Italian Inn, FW
James brings multi-tasking to a whole new plane: On a Thursday or Friday night at Italian Inn, he might be — all at once — hosting, cashiering, busing tables, mixing a fancy drink, crooning a jazz rarity like "The End of a Love Affair" on the small stage, and delivering piping-hot lasagne al forno to a honeymoon couple in one of the private booths. But with all he has to do (and that's not even mentioning his other gigs, which include singing jazz Saturday nights at 8.0), James will never let you feel alone — unless you're a honeymoon couple in one of the private booths, of course.
Chef
Readers' Choice: Brian Olenjack
Staff Choice: Tim Love, Lone-some Dove, 2406 N Main St,
FW
Tim Love has been on the scene for a number of years, but he's busting out in a lot of ways. His Lonesome Dove Western Bistro won the 2005 Zagat Survey nod as the best food in Fort Worth. Love calls his cuisine "fine urban western," with such dishes as kangaroo carpaccio nachos, fried softshell crabs, and quail quesadillas on the menu. Love is now planning a new restaurant on the West Side to be called "Duce" (meaning "second"). He also just completed a cooking special for The Food Network. We only hope Tim doesn't push things too far. He seems to have a lot of pots boiling on the fire right now.
Restaurant
Readers' Choice: Nizza Pizza
Staff choice: 62 Main Restaurant
Chef-owner David McMillan has made a dream come true — his and ours. In the faux downtown of The Village at Colleyville, McMillan, formerly executive chef at Dallas' Nana, has created a genuinely chic restaurant. The menu changes according to ingredient freshness and availability but always includes the tenderest meats and freshest fish. Sides and sauces are chosen for taste harmony, not because some plate decorator thought it would look pretty to drip basil aioli all around. With the Tuscan-villa-inspired décor, well-edited wine list, and attentive service, 62 Main Restaurant is a delicious winner.
New Restaurant
Readers' Choice: (tie) Cachonga's, 4255 Camp Bowie Blvd; and Spices International Café, 2747 S Hulen Blvd, both FW
Staff choice: Lanny's Alta Cocina Mexicana,
3405 W 7th St, FW
A fourth-generation chef and descendant of Fort Worth Tex-Mex pioneer Joe T. Garcia, Lanny Lancarte studied at the prestigious Culinary Institute of America after learning the basics in the family kitchen. He has confounded and delighted the city's aficionados by insisting that new and different sometimes does mean better. His reservation-only policy and small, always-in-flux menu may keep the masses out as effectively as the word "nouvelle," which he straightfacedly applies to his mixtures of Tex-Mex and French (think foie gras rather than guac for scooping, and quince salsa). But Lancarte is an unabashed populist when it comes to bending over backward to thrill his diners' taste buds. Adventurous but very satisfying.