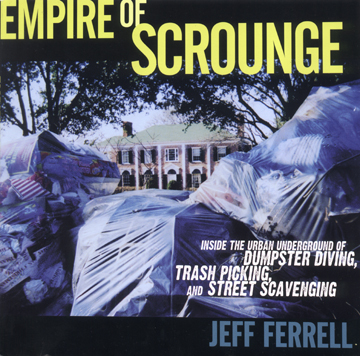 A lot of good observations and ideas can be found in 'Scrounge' — you just have to, uh, dig for 'em.
Empire of Scrounge, by Jeff Ferrell\r\nNew York University Press\r\n$22.00\r\n222 pps.
A D V E R T I S E M E N T
A D V E R T I S E M E N T
Course of 'Empire'
TCU prof Jeff Ferrell recounts his Dumpster-diving days in a new book.
By ANTHONY MARIANI
In 2001, not long before Jeff Ferrell took a job as a professor in TCU's Department of Sociology, Criminology, and Anthropology, he spent eight months living off the streets. Not on the streets. Off them, as a Dumpster diver. Every sweltering day from 9 to 5, he trawled the alleys and avenues of his native Fort Worth, fished through stinky curbside refuse, then either kept his bounty or sold it for cash. Ferrell's book about his days in the dumps, the forthcoming Empire of Scrounge: Inside the Urban Underground of Dumpster Diving, Trash Picking, and Street Scavenging, often reads like the inventory of some mythical department store. Folks who think that garbage cans are in-only receptacles will marvel at Ferrell's finds — a fully functional video recorder, Waterford crystal clocks, coins and folding money, antique mirrors and antique picture frames, old hand tools and new power tools, golf clubs, countless bottles of liquor, books, fishing rods and reels, a mid-century Fotron III camera still in its curved leatherette case, watches, clock radios, lamps, skateboards, family photos, high-dollar clothing, and more toys than you can imagine. By about the first two dozen pages of the 222-page tome, the realization may sink in: The unemployed teacher wasn't just getting by. He was doing pretty friggin well.
Ferrell decided to live off the streets (he wasn't homeless) after he left his job as a tenured professor at another school — his new "job" proved that many of us waste more than we use. He also simply liked the way in which Dumpster diving allowed him to acquire free stuff and help the environment at the same time. A staunch progressive, Ferrell tells us he's been fascinated by recycling and restoration since childhood, and his resumé shows that he's made his career by studying life's gray areas — the spaces between public and private realms, the difference between survival by any means necessary and criminal behavior, and mainstream art versus art of the do-it-yourself variety. His first book — Crimes of Style: Urban Graffiti and the Politics of Criminality — was followed by a couple of strictly academic titles that he co-edited. Then came Tearing Down the Streets, a readable chronicle of his time spent in the subculture of mass bicyclists, BASE jumpers, and freight-train graffiti artists. Where culture, crime, and politics collide is apparently Jeff Ferrell's favorite place to start poking around.
Ferrell is unabashedly populist, and Empire of Scrounge is undoubtedly more of a wake-up call than a philosophical essay or literary distraction to curl up by the fireplace with. In straining not to obscure his message of waste not/want not with intrinsically impenetrable academic-speak, the author writes in a simple, straightforward manner. Almost too simple. A lot of big ideas beneath the surface of his rallying cry go undisturbed. For all of Scrounge's neat anecdotal detail, there's hardly any insight or news. He also wastes space on trying to add gravity to accepted wisdom, like when he declares that clothes have "no inherent value" (no, really?) and when in the intro he says that most urban scroungers "operate at the lower economic margins" (you're kidding!). As a result, the book is almost as odd as one of those antique brass door handles that Ferrell is constantly on the prowl for: As unique and eye-opening as Scrounge is at times, it's also excruciatingly dull and repetitive.
As an academic, Ferrell is trained not to value narrative flow — and his lack of storytelling skill is evident. The book takes the shape of a series of short pieces that aren't as choppy as diary entries but still too play-by-play to pass as bona fide yarns. Every piece begins about the same: The author hops aboard his scrounged BMX bike and pedals into Fort Worth's sometimes-seedy/sometimes-tony underbelly in search of recyclables and reusables. Ferrell goes to the trouble of dating every entry, but except for their descriptions of booty, they all sort of read the same.
True to both his left-of-center politics and his professional training, Ferrell is torn between his biases and his responsibility to professional objectivity. By his descriptions, every homeless person, fellow Dumpster diver, and person of color comes off looking like an angel, and every SUV-driving Monticello resident is a monster. Ferrell makes the rookie mistake of equating poverty with virtue, and he ends up sounding like just another New York Times columnist, even though he — like most every Times columnist — is on the good team. (Go, Progressives!) Extremism in any form, remember, is still extremism — and it still seems amateurish in print. (See: Ann Coulter, Al Franken, Bill O'Reilly.)
An attentive editor could have streamlined Ferrell's heavy dependence on rhetorical crutches and clunky attempts at wit. His stabs at penning poetry and "writing" instead of simply conveying information are equally nauseating. Of power tools, Ferrell says that he was a "junkie .. and the empire was an endless fix." Lost golf balls, he writes, "nestle in the tall grass like so many little white Easter eggs." Efficient, original writing, Scrounge ain't.
Scrounge could have been so much more had Ferrell shirked his responsibilities as a scientist and just done some digging. Since the book's written in such a hands-off, detached, professorial way (you can almost see Ferrell puffing his pipe), there are more questions than answers. Ferrell repeatedly makes interesting observations but never backs any of them up with facts.
In other places, the author touches on some significant, under-reported phenomena but doesn't investigate further. He notes that he finds a lot of empty cans and bottles of booze on roadsides but is content merely to raise the concern of drinking and driving and then move on. He says that, while the empire of scrounge is mostly illegal, it still exists — but why and how? He writes that artists are making decent livings by transforming worthless detritus into hot art — but how? A lot of the topics he brushes up against are worth book-length investigations. What in the world is Jeff Ferrell waiting for? We know he's not lazy.