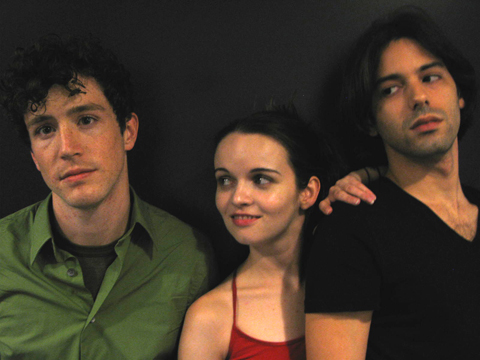 Joshua Heard, Reyna DeCourcy, and Jason Cruz star in Amphibian's current production at Fort Worth Community Arts Center.
A D V E R T I S E M E N T
A D V E R T I S E M E N T
Trapped in the 'Net
Pulsing drama is teased out of Amphibian Productions' dark play or stories for boys.
By JIMMY FOWLER
Most theater artists think that audiences for serious live drama are graying, dwindling, and not being replenished with young ticket-buyers. The latter's attention span, the old saw goes, has been impaired by the non-demands of instant messaging and micro-blogging. A show like Amphibian Productions' current one, dark play or stories for boys, would seem to be the theatrical equivalent of candy dangled in front of the Twitter tots: It's a profanity-laced, sexually charged, sometimes merciless tale of a teen cyber-stalker that playwright Carlos Murillo based on a real 2003 crime.
Something unexpected occurs in the 'Phibs' enthralling, poignant production: Rather than Theater selling itself short by adapting to the language and habits of the internet, the 'net proves to be a grand digital stage where Shakespearean themes of ill-fated love, identities in flux, and the power politics of gender unfold with pulse-throbbing intimacy. We can hope that a show like dark play can convert otherwise uninterested Generation Yers into regular playgoers. Regardless, the 'Phibs' latest outing, directed by JV Mercanti, masterfully proves that anywhere humans interact — even in an anonymous ether built from binary numerals — can be mined for startling, effective drama.
The play's 14-year-old anti-hero is Nick (Jason Cruz), a comic book-loving, AP class-attending smart-ass whose powers of imagination dwarf his face-to-face social skills. In chat rooms and social networking sites, Nick discovers that he can charm, seduce, overpower, and humiliate countless strangers by simply "making shit up." That is, by deftly assuming different identities. He develops the theory of a "gullibility threshold" and rates his prey on a scale according to how many "wheelbarrows full of caca" they're willing — even begging — to accept.
Two actors, Male Netizen (Richard Ercole) and Female Netizen (Elizabeth Mason), are used to embody Nick's multiple faceless personalities, from a hot foreign exchange student looking for action to a psychotic stepfather to an FBI agent investigating a heinous murder.
Unfortunately, the tenderhearted and very gullible Adam (Joshua Heard), a lonely 16-year-old, strays into Nick's web-cam sights. Adam is desperately seeking a first girlfriend with whom he can "chill on the beach," a pretty soulmate whose every detail he imagines down to her chipped toenail polish. With this profile in mind, Nick creates Rachel (Reyna DeCourcy), a sympathetic young Juliet with a mysteriously troubled home life who begins an obsessive online relationship with Adam. The question of who's more starved for affection, Adam or Nick, becomes a toss-up. They court each other with such romantic intensity that gender considerations fly out the window and a face-to-face meeting becomes inevitable.
Anyone who thinks the plot twists and tangled motivations of dark play are far-fetched should search out a 2005 Vanity Fair article. The facts in this true-crime tale about a prolific internet impostor from Manchester, England, are every bit as bizarre. If anything, playwright Murillo succeeds in lending some empathetic credibility to the story. And the Amphibian show smartly employs some comic relief, mainly in the form of Ercole and Mason. The bearded Ercole vamps as a giggly cyber coquette, and Mason scolds as the stern investigator who at one point solemnly recites the voiceover intro to TV's Law & Order: Special Victims Unit. Together, they verify that there is indeed a very goofy element to these deadly serious events.
Packed with scathing language and brutal imagery, dark play or stories for boys can be unpleasant to watch, although this production never takes cynical pleasure in its own shock value. Neither does it turn into a 90-minute public service screed on the perils of web predators. Instead, director Mercanti carefully instructs his actors to pace their performances with the sympathetic pulse of the characters. Cruz and Heard embody the loneliness, sexual ferocity, and blind spite of post-adolescence with stark accuracy. They are not presented as amoral monsters-in-the-making but as flawed kids absorbed by a protean information technology that enables them to avoid the consequences of their decisions until it's too late. The scariest thing in dark play is not the internet per se. Rather, it's the idea that our ability to trust and be intimate with other people — the factor that Nick has dubbed our "gullibility threshold" — is being converted by technology and our fellow humans into a fatal liability.