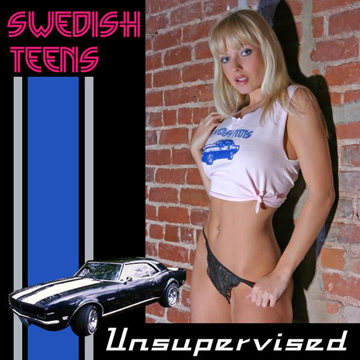 Well, who doesn't "wanna know" Jana Cova.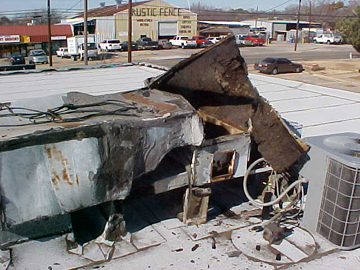 The roof of Tanstaafl Pub is where the vandal made entry. The pub's interior looks as bad.
A D V E R T I S E M E N T
A D V E R T I S E M E N T
HearSay
SXSW-talkin' blues afflict our local music columnist, here in a long-form version of the weekly staple.
The annual music orgy SXSW is right around the corner, and if you listen closely enough on quiet evenings, you can hear me dipping my raccoon's-tooth arrows in arsenic. I've still got the same old complaints: The festival is no longer about up-and-coming musicians of any age but about already-signed, easily marketable (read: attractive), under-30 indie rockers. The festival is just an excuse for bloated New York City record label execs to extend the daily vacation that is their everyday lives another few days. For unsigned bands, playing the festival is good only for adding to their resumes: Everybody with a brain knows that 99 percent of unsigned performers don't get signed — though club owners, propagandists, and commercial radio program directors (a.k.a. computers) still think the festival is worth a shit. They unconditionally love any band whose bio includes a springtime stint in Austin.
As an unabashed flag-waver for Fort Worth, I remain somewhat torn: While I'm miffed that more bands from Dallas and Denton are chosen to play SXSW every year, I'm glad that festival organizers acknowledge us Cowtowners, even if it is in the bashful, guilty, slightly fearful way that Junior Leaguers approach homeless people beneath bridges.
This year, however, adds a different wrinkle to the texture of my vacillating. More Fort Worth bands, according to early insider info, may end up playing the festival than ever before. Since the Weekly, along with several dozen other alt-weeklies across the country, co-sponsors the event, we're sent an annual list of the Fort Worth-based bands that have made the next-to-final cut. When I joined the Weekly about four years ago, the list was pretty short — there were only two candidates. This year, the list is as long as it's ever been during my tenure, perhaps as long as it's ever been, period. The magic number: 11. That's eee-levvv-ennn bands from Cowtown that have made SXSW's next-to-final cut, a 450 percent increase over the past four years. No matter what you or I think of the festival overall, it's still huge, it's still well-loved, and it's still a major part of the music industry. That more Fort Worth acts are getting the chance to participate in the event bodes well for the scene here. I'm not sure why or how. It just does. Trust me.
I also have no idea who or what explains the increase: There's no way to tell if there are more bands in town than there were four years ago or if there are more good bands here. Who knows. Who cares. Let's just leave the happy accident as it is, and if bands want to use it as fuel, awesome. Yay, team.
Swedish Teens Sure Sound Hot, But ...
OK, I'm confused. About 10 years ago, a bunch of stoner rock bands started popping up — Supagroup, Fu Manchu, Nebula, former Nirvana drummer Dave Grohl's Probot, Fort Worth's very own Speedealer — and they were all sorta fun. By shaping the idea of Camaros, mullets, three-chord songs, beer bellies, and bell-bottom pants into something antithetic to detached, depressed, Kurt Cobain-ian coolness, said bands helped a lot of us become more comfortable with ourselves and our often idiosyncratic tastes. Hell, Probot even got me to admit in public to having seen Rush in concert, like, 900 times, dating back to the early 1980s. (Throughout the '90s, I kept my love for the corny Canadian power trio under wraps for fear of looking like a wispy-eyed nostalgist and thus totally un-cool: What grungers like Cobain strove for was a somewhat decisive break with tradition — musical, sociological, whatever.)
Like bell-bottom pants in the '60s, '90s-era stoner rock bands fell out of fashion about as quickly as they rose. Too bad somebody forgot to tell the Swedish Teens, a Denton-based four-piece that still flies its tattered, soiled, blue-and-gold freak flag. The Teens got all the right moves — sludgy riffs, big beats, stupid lyrics — but the band is about a decade late and a dirty Benjamin short.
I also bet that if we turned the clock back to 1999, they'd still seem a little fake, and not in a good way. Even though they're more of a novelty stoner rock band than an actually stoned stoner rock outfit, the Teens don't make all of their jokes work. Like the "humor" in a sitcom, the jokes in the Teens' tuneage are wayyyyy too obvious. You could almost see the Dentonites writing songs by checking off a list of stoner rock motifs. Ironic references to a bitchin' Camaro or two? Check. Ironic, sly references to obscure porno actresses? Check. Ironic references to the local shopping mall? Check. Ironic references to medium-wage service industry workers? Check. Non-ironic commands to party and/or party hard? Check. The double entendres runneth over, as in "Everything All the Time": "Gonna roll on up / You better rock on out / If you're gonna wake [frontman] Klas [Josephson] up / You better get down." Hardy har har. Even a paean to Jana Cova, Czech Republic-born porn star extraordinaire and cover model to the Teens' cleverly titled 2004 c.d. Unsupervised, seems forced: "You put the hurt on / Oh, I got erection / Come on and sing it for me / I can't believe it, the things I'm seeing / Baby, you done it to me / Jana Cova, I wanna know ya / Inside / Inside and out / Jana Cova / I wanna know ya / Inside / Inside and out." Yawn!
What made earlier, superior, even sarcastic stoner rock groups like Fu Manchu and Supagroup uniquely great was their exaggerated masculine confidence. Even though some of the guys were surely joking about the amount of weed they could smoke and still perform in the sack, they sounded believable. Their voices were tough, singular, and unapologetic. The Teens' Josephson sounds scared. His voice is one-dimensional, stilted, and thin. I can't help but think that he's really a musical genius who decided that spreading the trite pervasiveness of irony in popular culture is a much quicker way into the stratosphere — and into Jana's G-string — than practicing for Carnegie Hall. BTW: The intro to the Teens' "Straight Out the Pants" is a neat homage to Deep Purple's "Speed King" (circa 1970). Sweeeeet. The Teens play Sat. at Rubber Gloves Rehearsal Studios, 411 E. Sycamore St., Denton. Call 940-387-7781.
Local Round-Up
Though I do admit that seeing the Swedish Teens in person is probably a hoot, Saturday will undoubtedly find me at the Wreck Room for Goodwin's show. In the throes of preparing to unleash a multimedia cornucopia over the next few months, Goodwin will use the gig as an opportunity to record ambient crowd noise. No kidding: Bands do it all the time. In Houston a few years ago, one of the 235 classic rock stations in town (I forget which) brought ZZ Top to the legendary rock club Fitzgerald's, where a friend and I watched with our mouths agape as a dumb-ass radio DJ spent three hours encouraging the riff-raff that had convened to scream randomly. When Billy Gibbons and company finally took the stage and sleepwalked through two or three of their '70s-era hits, half of the crowd had sobered up, and the place emptied a few minutes later. But I digress: Nine times outta 10, a Goodwin show is the best thing going on in town. See 'em with Briley and Eaton Lake Tonics, at 3208 W. 7th St., Fort Worth. Call 817-348-8303. ... One thing about SXSW we do know: Now in its 20th year, the festival is reaching maximum density. The number of artist submissions this year, according to insider info, nearly topped 8,000, the most ever. The number of showcases, however, remains pretty steady at around 1,200. Of all years to make the cut, 2006 is proving to be the most difficult. The only two Fort Worth bands to get the nod from Austin so far are Chatterton and The Theater Fire. Though we're not sure where and at what time either band is performing, we'd like to congratulate them anyway. Now comes Round Two: getting their small intestines ready for late-night Sixth Street "pizza."... A couple of weeks ago the 30-year-old Arlington institution Tanstaafl Pub was vandalized — the perp killed the aquatic critters in the fish tank, irrevocably ruined a mess of vintage Grateful Dead posters, busted up the two tv's, and wrecked the huge front window. The likely reason: money. "He didn't find any," said Mary Ann LeRoy, co-owner with husband James, "so he tore up the place." Though not the first burglary attempt at Tanstaafl, it'll go down as the worst. No arrests have been made yet, though police, according to Mary Ann, have a solid lead. In response to the destruction, several singer-songwriters held a benefit last week, drawing about 100 folks and raising enough money for the LeRoys to replace the tv's and $700 window, similar to the previous one except for a posted notice that indicates the presence of a security system. The Tanstaafl is located at 409 N. Bowen Rd., near the intersection of Division and Bowen in East Arlington. Stop by and show 'em some love sometime. ... As many of you may have noticed, the year-old Southside rock club Axis hasn't been open since New Year's Day. The prospect of a sale lingers. We'll keep you posted.
Contact HearSay at hearsay@fwweekly.com.